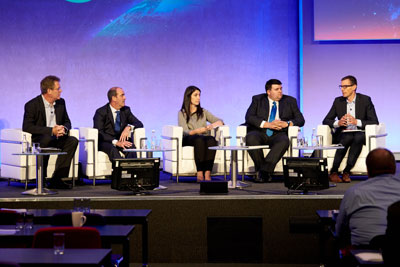 The Identity Week conferences provide three days of learning, analysis and in-depth discussions alongside countless networking opportunities.
Our aim is to help to create a more secure world where trusted identity solutions enable governments and commercial organisations to provide citizens, employees, customers and consumers with a multitude of services, entitlements and opportunities to transact in a seamless, yet secure manner.
SDW, Planet Biometrics and Digital:ID sessions are for conference pass holders only, sessions in the Knowledge Theatres are open to all attendees.
Day 1 - Tuesday 11 June



Conference pass holders only




Conference pass holders only




Conference pass holders only




Open to all




Open to all

Conference Introduction
Keynotes
Break
Building Effective Identity Foundations
Banking and Biometrics: Knowing Your Customers
Managing Trust - 'Good Identity'
Start up Sessions
Start up Sessions
Exhibition Viewing
Lunch
SDW - Grand Designs
Grand Designs - Biometrics in Action
Government Showcase
Free Seminar: GDPR Workshop
Free Seminar
Roundtables
Start up Sessions
Start up Sessions
Break and Exhibition Viewing
Design Strategies to Thwart the Forger
Building Biometric Databases at Scale
ID Ecosystems & Citizen e-Services
Free Seminars
Free Seminars
Effective Policing Initiatives to Counter Document Fraud
Considering Privacy and Ethics
International Interoperability of Identity
Free Seminars
Free Seminars
Day 1 Close
Day 2 - Wednesday 12 June



Conference pass holders only




Conference pass holders only




Conference pass holders only




Open to all




Open to all

Speed Networking
Keynote
Keynote
Keynote
Keynote
Keynote
Keynote
Refreshment Break and Exhibition Viewing
Visions for Next-Gen. Security Printing
Policing - Leveraging the Biometric Technology Revolution
Combating Digital ID Fraud
Free Seminar
Free Seminar
Exhibition Viewing
Lunch
Views from the Top
Free Seminar
Free Seminar
Secure credentials and their place in tomorrow's traveller ecosystem
Citizen Services and the Impact of Biometrics
Digital Identity and the Future of Online Customer Experience
Free Seminar
Free Seminar
Panel
Minding the Gap: Ensuring all members of Society can benefit from Biometrics
Panel
Free Seminar
Free Seminar
Refreshment Break and Exhibition Viewing
Roundtables
Document authentication - emerging concepts
Biometrics: The heart of Seamless Travel?
Robust Authentication Online
Free Seminar
Free Seminar
Drinks in the Exhibition Hall
Close of Day 2
Day 3 - Thursday 13 June



Conference pass holders only




Conference pass holders only




Conference pass holders only




Open to all




Open to all

Keynote
Keynote
Keynote
Keynote
Keynote
Keynote
Personalisation and Issuance - What's Next?
Advances in Liveness Detection
Does Blockchain have a Future in Identity?
Free Seminar
Free Seminar
Refreshment Break and Exhibition Viewing
Security Features Fit for the Future
Biometric Testing: Practical Outcomes
Next Generation Digital ID
Free Seminar
Free Seminar
Exhibition Viewing
Lunch
Challenges and Opportunities of Derived Mobile Credentials
Next Generation Biometric Technology
Digital Identity for a Better Future
Free Seminar
Free Seminar
Refreshment Break and Exhibition Viewing
Identity Week Interactive Forum
Closing Remarks
Close of Conference

*Please note sessions may be subject to change