Meeting tomorrow's healthcare demands today
Conference
Speakers

---
Overview
Southeast Asian healthcare takes centre stage; hospitals in the region are witnessing tidal changes due to both the increasing affluence of the middle class and the rising demandfor quality yet affordable healthcare. This is set against a backdrop of regulatory changes implemented by ASEAN.

At Healthcare World Asia, stakeholders will be presented with insightful strategies
for hospital operations, investments and IT that will enable them to effectively capitalise on the changing healthcare demands in Southeast Asia, and ensure preparedness fortomorrow's healthcare needs.
Download the sponsorship brochure ›
Speaking opportunities ›
About the conference
Trade liberalisation in ASEAN's economic framework agreement services is influencing the healthcare sector. How does this help achieve accessible healthcare in ASEAN and maintain quality and affordability?
At this conference we will address what this means for the 600million strong healthcare community in Southeast Asia.
Book now using the early bird discount ›
More about sponsoring ›
Site Tours
We have arranged site tours to some of Singapore's leading healthcare facilities on the pre and post conference days.
29 September: Fortis Surgical Hospital
1 October: Khoo Teck Puat Hospital
Places at these site tours are very limited and will be assigned on a first come first served basis. There are also workshops available on both days.
Book now ›
See the workshop agenda ›
Who should sponsor
Telemedicine/Mobile Health Providers
IT Solution and Integration Providers
EHR/EMR Providers
Communication Solution Providers
Supply Chain Management Consultants
Operational Excellence Consultants
Logistics Service Providers
RFID Solution Providers
Billing and Payment Solution Providers
Business and Risk Consultants
Investment Banks/ Project Finance
There are different sponsorship packages and opportunities available for all of the above options.
Who you will meet
CEOs/CFOs/CIOs/CTOs/COOs/CMOs
Heads of Operations
Heads of Strategy
Heads of Healthcare Investment
Heads of Corporate Development
Directors/Heads of Healthcare IT
Managing Directors/Partners
Directors of Supply Chain/Logistics
Heads of Facilities Management
Heads of Procurement
Heads of Project Management
Heads of Ambulatory Services
Download the Total BioPharma App ›
I want to sponsor a round table ›
Download more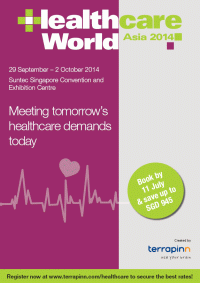 Related training
Error processing SSI file