Expand your network at Healthcare World Asia
Who should attend?
CEOs/CFOs/CIOs/CTOs/COOs/CMOs
Heads of Operations
Heads of Strategy
Heads of Healthcare Investment
Heads of Corporate Development
Directors/Heads of Healthcare IT
Managing Directors/Partners
Directors of Supply Chain/Logistics
Heads of Facilities Management
Heads of Procurement
Heads of Project Management
Heads of Ambulatory Services
Why attend?
You should attend this event if you want to:
Discuss your challenges with your industry peers
Meet CXOs across South East Asia
Gather immediate feedback from all the interactive sessions
Learn what it works and what does not from real life case studies
Explore new technologies and solutions that improve your organisation's processes
Ask the experts your specific questions and learn on the spot
Get updated
Healthcare world Asia will bring you up to date with:
ASEAN healthcare services integration
Healthcare IT innovations & adoption strategies
Streamlining operational efficiency
Maximising patient care and satisfaction
Investment trends and opportunities and Southeast Asia
Strategies to achieve value based care
Healthcare landscape in Southeast Asia
Download the sponsorship brochure ›
I want to sponsor a round table ›
Interactive conference formats
"Cut through the noise of your competition"
Our interactive conference formats allow you to engage directly with your industry partners and prospects.
Lead a roundtable - Brainstorm solutions with industry leaders
Join us by the fireside - Engage your customers in a relaxed setting, take questions and hear feedback
Get content straight to your mobile phone ›
Take advantage of the earlybird discount ›


Networking Opportunities
Our new conference format allows for more networking than ever before. Coupled with our networking app and evening social activities there's no reason you can't meet everyone on your target list.
We're also on hand to help you arrange those all important meetings and set you up in a meeting room on the day.
Download the Total BioPharma app ›
Download the sponsorship brochure ›

Download more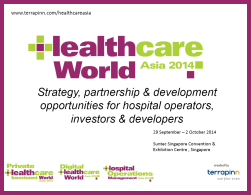 Related training
Error processing SSI file