Meet and do business with the industry's leading stakeholders
About the conference
Positioned as the gathering point for Asia's Healthcare industry especially for ASEAN. This event is an unrivalled platform to expose the most pressing issues faced by the various stages of development in Asia's healhcare industry
This event presents the perfect opportunity for brands to build awareness about their solutions and to launch their new products in ASEAN.
More on exhibiting ›
See the brand new sponsorship packages for 2014 ›

Who should sponsor?
Telemedicine/Mobile Health Providers
IT Solution and Integration Providers
EHR/EMR Providers
Communication Solution Providers
Supply Chain Management Consultants
Operational Excellence Consultants
Logistics Service Providers
RFID Solution Providers
Billing and Payment Solution Providers
Business and Risk Consultants
Investment Banks/ Project Finance
I want to speak at the event ›
Learn about the sponsor marketing ›
Why sponsor?
Raise your profile and brand awareness infront of ASEAN and Asia
Showcase latest IT innovations and software to decision makers
Conduct live demonstrations to show how your product is useful for hospitals and ultimately adds value to patients
Get face to face interaction with healthcare operators, your prospective clients
Grow your market share in one of the world's emerging markets

Download the sponsorship brochure ›
Contact one of our sponsorship team ›

Networking opportunities
Our new conference format allows for more networking than ever before. Coupled with our networking app and evening social activities there's no reason you can't meet everyone on your target list.
We also have a dedicated networking manager on hand to help you arrange those all important meetings both in the run to the event and onsite.
I want to moderate a roundtable ›
I want to attend the event ›

What's in it for me in 2014?
Client engagement is a priority for us. This year we're giving you more opportunities to get to know your potential customers.
Moderate a roundtable discussion on a chosen topic
Design a networking activity with us
Work with us to promote your presence at the conference prior to the event
Pricing structure for delegates ›
See the earlybird discounts ›

Download more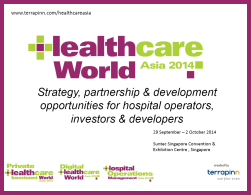 Related training
Error processing SSI file