Position yourself alongside market authorities
About the conference
Positioned as the gathering point for Asia's Healthcare industry especially for ASEAN. This event is an unrivalled platform to expose the most pressing issues faced by the various stages of development in Asia's healhcare industry.
This event presents the perfect opportunity for brands to build awareness about their solutions and to launch their new products in ASEAN
Download the sponsorship brochure ›
Find out about the new sponsorship packages for 2014 ›
Speakers already confirmed
Dr Amit Varma, Managing Partner, Quadria Capital, Singapore
Leon Jackson, CIO, U.M Specialist Centre, Malaysia
Joe Hau, Director Operations, TTSH, Singapore
Michael Wong, CEO, Parkway Pantai Ayer Keroh, Malaysia
V.P. Kamath, Group COO, Nova Medical Centres, India
Dr Su Le, CEO, Hoan My Sai Gon Hospital, Vietnam
2014 Conference Themes
Meeting tomorrow's healthcare demands with IT and efficient operations
Addressing healthcare organisational trends in developed countries
Evalating the state of healthcare systems in ASEAN
Finding the holy grail of Healthcare - Moving towards a value oriented system
Uncovering the next big healthcare investment opportunity in SEA.
Download the sponsorship brochure › Contact one of our sponsorship team ›
Networking opportunities
Our new conference format allows for more networking than ever before. Coupled with our networking app and evening social activities there's no reason you can't meet everyone on your target list.
We also have a dedicated networking manager on hand to help you arrange those all important meetings in the run to the event and will be onsite for both the conference days to make sure everything runs smoothly.
Download the event app ›
Get content directly to your smartphone ›
Download more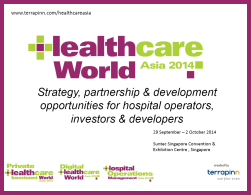 Related training
Error processing SSI file