Why Visit.
Keeping up with the latest trends and developments can be difficult.

And understanding which technologies to buy can be even more difficult. You know the problems your organisation is facing, but how can you possibly know about all the latest ideas and technologies that can solve these problems? How can you differentiate between one supplier and the next? And how can you make sure that you invest in the RIGHT solutions? With so much to choose from, it represents a BIG challenge. So….what's the answer?
Simple….visit Work 2.0 Africa!
2 days of exploring learning, comparing, networking
Free seminars
Useful product demonstrations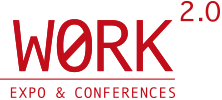 Work 2.0 is for business owners and leaders wanting to get the most out of their people. It's at the intersection of people, workspaces and technology.

CONTACT US
phone: +27 11 516 4043
email: katherine.mcewan@terrapinn.com