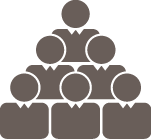 Patient Groups
What can patient groups do to help ease challenges in orphan drug access? Understand industry perspective and collaborate to resolve challenges fast.

DOH/MOH
Why not subsidize orphan drugs? Share your perspective; be understood and work toward a solution.

Asian FDAs
How can you start to define rare disease? Leverage how others have defined rare disease and provide a pathway for orphan drugs to your rare disease patients.

Pharma, biopharma & biotech
Understand Asia's market access culture and infrastructure. See how best to provide orphan drugs to rare disease patients in the region.