Europe's leading upstream Cell Culture conference and exhibition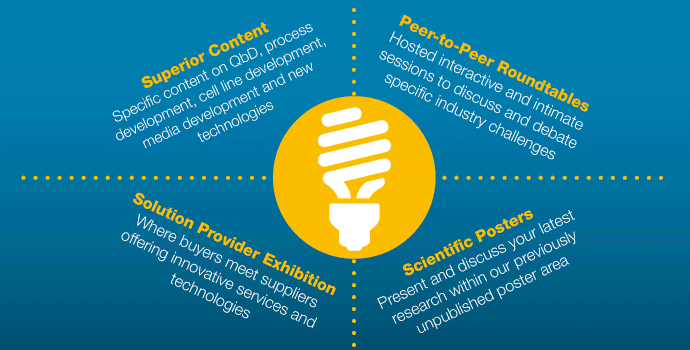 Download the brochure
Join our weekly newsletter:
About the congress
The 4th annual Cell Culture World Congress 2014 is the region's largest event dedicated to process enhancement, technological innovation and business development.

It is an exhibition, a strategic keynote conference, technical roundtables and practical workshops.
It is an interactive 3 day, dual-tracked event with multiple, disruptive learning formats.

Download the event brochure >


What it is
Where pharma, biotech, academia and CMOs come together to learn and partner

A marketplace where Media, Cell Line, Sera and Reagent suppliers and EQMs showcase

A technical keynote congress that presents real 'Disruptive' and 'Innovative' case studies

A pre-qualification medium that facilitates 1-2-1 meetings to get business done

A rich learning experience through a multi- layered and multi-formatted content offering
Core Themes
Industry stakeholders will discuss:
Bioprocessing and biomanufacturing strategy
Implementing QbD
PAT and new analytical technology
Cell line development
Media selection and development
Scale up and scale down
Single use and new technologies
Product-specific case studies

Exhibition
It`s an event to demo and showcase.
35+ solution provider exhibitors

Unpublished research posters

Engaging networking lunches

Themed networking events
Networking
Dedicated time to make all important connections:
Total BioPharma Partnering system

Solution provider exhibition

1-2-1 Speed Networking

3 engaging networking lunches

2 social evening functions

Over 10hrs of face-to-face time
Sponsor
Companies should sponsor Cell Culture World Congress if you can:
Help industry realise the opportunity

Bridge the industrial translation process

Accelerate industry's' route to market

Reduce commercial and technical risk

Offer enabling technologies
co-located with