Showcase your products to LatAm families
Overview
Americas Family Office Forum is the leading conference addressing new ideas and innovation in the wealth management sector.
Over 2 days the conference will bring together the leading private banks, family offices and wealth advisors.
Who should sponsor
Life insurance companies
Offshore jurisdictions
Investment banks
Law firms
Fund managers and ETF products
Wealth technology providers
Consultants
Who attends
Heads of the Family Business
Chief Executive Officers
Chief Investment Officers
Chief Information Officers
Chief Technology Officers
...from North, Central and South America's leading family offices.
Why get involved
Family offices attend to:
Enter and achieve growth in new countries
Stay abreast of how other wealth managers are responding to developments like FATCA
Build partnerships for growth
Use digital strategies, cloud technology and social media for their clients
Compare new investment strategies
Evaluate new technologies
Compare products and solutions
The conference
It will focus on:
How to build partnerships with international SFOs and MFOs
How to promote growth and independence within families
How to access alternative asset class opportunities
How to build family office technology and wealth management platforms
How to incorporate digital strategies, social and cloud techonology
Download more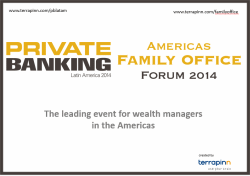 For information on who attends, 1-2-1 partnering, the conference structure, and the different available sponsorship packages, download the prospectus now.
co-located with
Related events
Error processing SSI file