Asia's leading commodity investment summit
Show overview
Commodity Investment World Asia 2013 is Asia's only event that brings together institutional investors, asset managers, fund managers, investment banks, brokers, exchanges and technology providers to discuss the latest trends, opportunities and challenges in the commodity marketplace.
The 3rd annual Commodity Investment World Asia 2013 will be held in conjunction with the 9th annual Asia Mining Congress in Singapore.
Reasons to exhibit
Commodity Investment World Asia is about generating new business and connecting you with your targeted clientele.
Gain exclusive access to the most senior decision-makers in the industry. Meet the industry leaders, understand their needs better, and develop business relationships with them.
Confirm your partnership early to gain unparalleled visibility and access to opportunities to speak alongside your potential clients!
Download more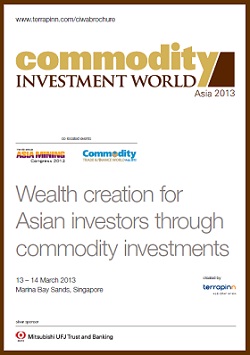 Who's speaking?
co-located with
Related events
Related training
Error processing SSI file