Experience more payments innovations and technologies at Payments Expo Asia
Event overview
With constant disruptions to the payments scene with new technologies as well as the continuous changing of the customer landscape, it is no easy feat to keep up with these turbulences. Yet, all businesses including governments now see innovative payments channel as a necessity in the their operations.
We see abundant opportunities in Asia's payments landscape and acknowledge that there's a strong need for a business networking event dedicated to the evolution of payment innovations and technologies in Asia.
Payments Expo Asia is the platform for stakeholders to come together to learn and exchange new ideas and information on the latest disruptions in the industry, get the most relevant knowledge about leveraging the new technologies so as to take the future of digital and mobile payments further in their organisations and connect with customers more effectively.
Event format in 2015
10,000sqm exhibition space
Group Pavilions from Europe and Asia
Payments Innovation Zone
2 C-Level Premium Conferences - Cards Asia and Retail World Asia
Targeted roundtable discussions
1-2-1 partnering
Speed networking sessions
Face time with prospects
4th annual Smart Awards Asia
60 FREE Standard Conference sessions covering 10 major themes: Future Bank, NFC, Fraud & Identification, Mobile Payments, Retail, Payments, RFID, Cards, e-Commerce, customer engagement & loyalty
Download partnership brochure ›
I want to get participation rates ›
Premium Conference
Besides a 'free to attend' exhibition, Payments Expo Asia also includes a 2 day Premium Conference (for paying delegates only). A stellar speaker line-up includes payment innovators, disruptors, movers and shakers from banks, telcos, retail and government in Asia.
Attendees also get the opportunity to rub shoulders and get quality face-time with industry peers at the Lunch Roundtables and other networking activities.
Get involved by taking a key speaking role at our conference.
Who attends
Banks
Financial services/ institutions
Retailers & merchants
Government services & ministries
Hospitals & healthcare
Leisure & entertainment
Travel & hospitality
Transit & ticketing operators
Telecommunication providers
Rail & bus operators and many more
If you want to meet, network and do business with senior decision makers from the above industries, you need to get involved!
A great event in 2014
The Exhibition
10,000sqm exhibition
5 Group Pavilions (Singapore - largest Pavilion in the history of Cards & Payments Asia, China ,France, UK and Innovation Village)
200 exhibiting companies
60 FREE Standard Conference sessions
5,151 visitors
61 countries
Premium Conferences
166 C-Level speakers
524 attendees
28 countries
Download post event report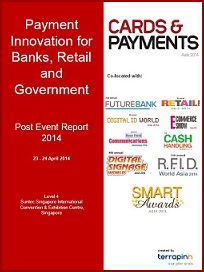 Contact Ms. Melissa Ang at melissa.ang@terrapinn.com or +65 6322 2756 to get more information on latest booth rates for Payments Expo Asia 2015.
co-located with
Related events
Related training
Error processing SSI file