America's Family Office Forum is now Wealth Management Americas 2015, click here to visit the new website.
Download the brochure

Join our weekly newsletter:
Overview
The 4th annual Americas Family Office Forum, brings together family offices and HNWIs to network, problem solve and exchange ideas on family governance, asset allocation and wealth management best practice.
In a content packed agenda wealth managers will review the latest opportunities across wealth management, family operations, investment approaches and technology products.
Who should sponsor
Life Insurance companies
Offshore jurisdictions
Investment Banks
Law firms
Fund managers and ETF products
Wealth technology providers
Consultants
Get in front of leading families as well as their operations, investment and technology executives.
find out how to get involved ›
download the sponsorship brochure ›
Conference focus
How to build partnerships with international SFOs and MFOs
How to promote growth and independence within families
How to access alternative asset class opportunities
How to build family office technology and wealth management platforms
How to incorporate digital strategies, social and cloud technology
Who attends
Forrestal Capital Limited
Harbeck Family Foundation
Big Sur Partners
Grupo Los Grobo
Gallatin Wealth Management
WE Family Office
and more
It's a networking event
At Americas Family Office Forum, we recognize the importance of networking and offer an experience which allows you to do just that.
From our mobile app to networking manager to peer-to-peer partnering we ensure that you get the very most from your time on site.
Download more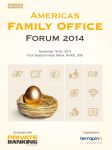 co-located with
Related events
Error processing SSI file