| | |
| --- | --- |
| | |
Innspiration, Innovation and Education
Mobile Show Keynotes
Join 100's of fellow senior level attendees at the Mobile Show Keynote Agenda. 
Topics include:
Mobile Apps
Enterprise Mobility
Mobile Advertising
Mobile Entertainment
M-Health 2013
Free conferences
With 2 days of jam-packed content, now is the time to turn those ideas into actions.   Attend the 6 conferences that cover the entire mobile ecosystem.
With practicality in mind, these conferences are designed to ensure you leave with the knowhow to implement and improve your business through mobile.
Who attends Mobile Show
The Mobile Show Middle East is the place where solution providers find new business with senior level executives from:
Telcos
Developers
Brands
Advertising Agencies
Healthcare Operators
Retailers
Publishers
CIO/IT Managers
Mobile Show marketplace
The Mobile Show 2014 is where the enabling technologies behind mobile innovation are showcased for you to evaluate, buy and ultimately improve your business.
With new services and products coming onto this lightening paced market every minute, this expo is a must attend.
Don't miss out on the abundance of opportunities, step away with new solutions and enable business advantage by visiting the exhibition.
Mobile Show networking
Networking like no other event…This is where you'll make priceless professional connections. We designed this event to enable you to connect with your peers in a way that's simply not possible online.
Here's what's in store for you:
One-to-One Partnering
Networking drinks receptions
Gala dinner
Networking App
Download more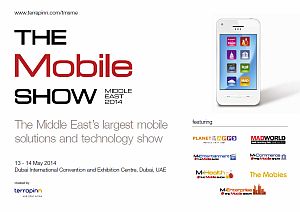 Related events
Related training