Asia's most important digital education event
Overview
Co-organised by Terrapinn and MDeC, and supported by the Ministry of Education, Malaysia, the 2nd annual Digital Education Show Asia is set to be the most exciting education technology trade event in Asia in 2014. You'll meet:
Profiles:
APAC's Education Ministries
Public and Private Schools
Public and Private Universities
International Schools
Vocational Institutions
Polytechnics
Job Titles:
Directors, C-Level Executives
Principals
Deans
eLearning Directors
IT Heads
Heads of Departments
Lecturers
Teachers
Who exhibits
App and Game Developers
Cloud Solutions Providers
Computers and Servers
Consulting Services
Publishing and Printing
eLearning Content
Financial / Accounting Management
Interactive White Boards, Projectors, Visualizers
Internet Security and Safety
Learning Management Systems
Music / Art / Design Technology
Tablets and Mobile Devices
If your end in mind is to meet and educate senior level educators on the tremendous benefits of your solutions, then Digital Education Show Asia is the event for you to improve brand equity and establish a foothold in Asia.
Contact Mr. Carlo Schembri at carlo.schembri@terrapinn.com or +65 6322 2703 for more information!
Why exhibit or sponsor
Be seen as an industry leader at the most prestigious meeting conference for edu-tech developments
Meet principals and authorities, understand their needs, and develop business relationships with them
Reach out to a new market that is difficult to break into
Raise awareness of your solutions and track record amongst schools and institutions
Your competitors will be at Digital Education Show Asia, there's no reason why you should miss out on this annual event!
FREE on-floor seminars
Discover pioneering teaching straight from educators and olution providers! From
blended learning to mobile earning, get in-depth insights on how to successfully engage today's students.
Over 50 on-floor seminars in 2 theatres are available to all exhibition visitors. Highlights include:
Getting started with Minecraft: Amazing
applications for you and your students to
explore (60-minute tutorial session)
MOE Malaysia Case Study: Moving universities to the digital generation: Aligning curriculum and
technology
Education technology nation: How can
higher education institutions strategise?
Why teach coding to kids?
Scaling up education technology
initiatives: From small experiments to
school-wide change
Get your FREE expo pass
Online visitor pre-registration is now open till 17 May 2014. Register for your FREE Exhibition Pass now !
Benefits of the free expo pass:
Attend over 40 sessions at 2 on-floor seminar theatres
Access the 4,500sqm exhibition
Discover 300 solutions
Network with 3,000 attendees
Meet overseas education leaders
The Digital Education Show Asia trade exhibition will open between 10am - 5.30pm daily on 27 and 28 May 2014, KLCC, Malaysia.
Download new eBook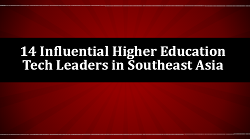 This new eBook profiles 14 higher education tech leaders that have made significant efforts and contributions to the education landscape in Southeast Asia. These "must-know" icons are the key players in transforming and lifting the region's higher education system to greater heights.
Related events
Related training