Enabling groundbreaking payment innovation
The opportunity
We understand that the potential for disruption and transformation is greater in payments and commerce than in any other industry. It underlies every transaction, in every country, between people and things, and people and people.

We also understand that relationships matter more than ever in this industry and at the end of the day, the success of the event will be determined by the number of quality contacts you make. We guarantee you will meet buyers at this show.
With over 10,000 attendees, including 500+ senior buyers from regional banks, 500+ government officials and delegations from across the region, Cards & Payments Middle East is no average event.
Who attends?
This is where senior decision makers from across the Middle East come to discover and invest in the latest cards and payments solutions which will help their business.

You are guaranteed to leave the show buzzing with actionable ideas that will revolutionise your business and with the contacts to make change happen.
Attendees include:
Retail Banks
Government
Telecom Operators
Retailers & Family Groups
Large Enterprise
Key themes
Grab a front row seat to hear from the most fascinating minds from across the globe, with entrepreneurial futurists, established icons and emerging disruptors, all setting the bar high with their innovations and ideas that will truly revolutionse the way we browse, shop and pay.
Key themes of the show include:
Contextual technology
Mobile payments
Big data
Security
Omnichannel
Authentication
Digital currency
Social payments
Prepaid
The content
Ride the wave of innovation. The world's most innovative thinkers and industry gurus will deliver their visionary presentations which will excite, provoke, inspire and engage you.
Keynote presentations, roundtables, masterclasses and workshops will cover: contextual technology, mobile payments, big data, security, omnichannel, authentication, digital currency, social payments and prepaid
Get your message in front of senior level decision makers.
Networking
We understand that relationships matter and at the end of the day the success of the event will be determined by the number of quality contacts you make. We guarantee you meetings with buyers.
Speed Networking
Qualify leads, collect business cards and book meetings in these unique networking sessions.
Your Networking Manager
Take the chance out of securing those vital business opportunities.
The Networking App
Contact all attendees, set up meetings, access white papers and much more.
Download more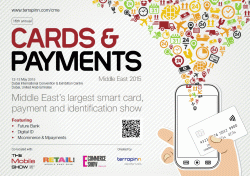 co-located with
Related events
Related training