Customer strategy for all brands
Overview
Everyone wants to create amazing customer experiences, wow their customers and create a loyal customer following.
Africa's Customer Festival brings together all aspects of the customer journey; from product search and evaluation to purchase and onto repurchase.
Organisations wanting to be truly customer centric have a mountain of disciplines to tackle and plethora of options within them.
Africa's Customer Festival short cuts this process for them.
Who exhibits
If you offer the following products and services, then Africa's Customer Festival, offers a creative and year round marketing opportunity:
CRM solutions
Loyalty programmes
Marketing Automation
Business intelligence
Analytics and insight solutions
Gamification
Data services
Payment platforms
Bricks and clicks integration solutions
Mobile platforms
Design and branding
Experience marketing
Contact centres
Outsourcing solutions
Customer service applications
Implementation and consultancy services
Desperately seeking help
Can you help our attendees solve problems like:
How can I deliver customer experiences that wow?
How can I retain my existing customer base?
How can I use data to build revenue?
How can I build engagement and loyalty using social media?
How can I use cross channel data to better serve my customers?
How can I improve my payments process to increase revenue?
How can CRM and marketing automation benefit my business?
How can I incorporate mobile into my customer strategy?
How can I personalise offers and pricing?
How can I build loyalty whilst maintaining price?
Eating our own dog food
Africa's customer festival is different.
We've created an innovative and unique format that takes the chance out of networking, eliminates boring broadcast style presentations and takes place in a fun and vibrant atmosphere.
Who attends
Companies like:
Old Mutual
ABSA
Telkom
Alive Advertising
Mweb Business
Eskom
Nike SA
Ogilvy PR
Microsoft
Download more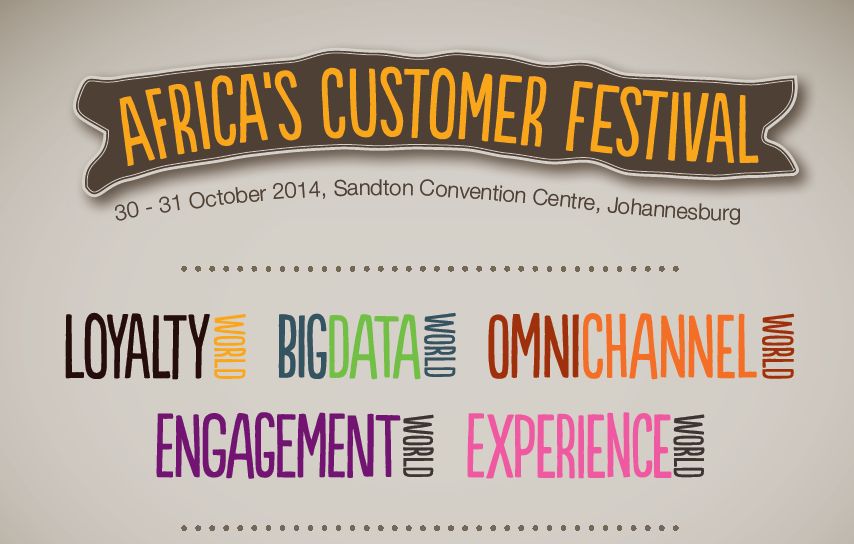 Related events
Related training