The marketplace for traders and quants
About The Trading Show
The Trading Show New York provides unparalleled opportunities to network and do business with top trading firms, quant funds, end investors, banks, brokers, and technology providers.
By exploring the overlapping issues of quant investing, electronic trading, SEFs and big data for finance, The Trading Show New York truly has something for everyone.
It is the one-stop shop for the entire trading community!
Reasons to sponsor
Generate leads and make sales
Showcase your expertise
Debut new products
Profile your brand
Meet new business partners
Develop key relationships
Establish credibility
Demonstrate thought leadership
Deliver your most cost effective marketing channel this year
All of this at one place and time - don't miss it!
Who attended in 2013?
Daniel Nadler, CEO, Kensho Finance
Manoj Narang, CEO, Tradeworx
Marcos Lopez de Prado, Head of Quant Trading & Research, HETCO
Erik Gordon, CTO, Trillium Trading
Attilio Meucci, Chief Risk Officer, KKR
Ram Ahluwalia, Principal, Winged Foot Capital
David Aronson, President, Hood River Research
Mike Bellafiore, Partner, SMB Capital
Sean Hendelman, CEO, T3 Companies
...and more!
download post event report for full list ›
book early to save ›
Find new partners
Meet influential buyers and decision makers within the trading sector. Take advantage of our partnering tools to meet the right people:
Meet pre-qualified partners
Set up meetings with our event app
Sign up for 1-2-1 Partnering services to secure your very own dedicated Networking Manager
Meet all the attendees during Speed Networking
Interactive peer roundtables
A business marketplace
This is a business marketplace like no other:
Exhibition showcasing the latest solutions
Inspirational keynotes
Interactive roundtable discussions and peer-to-peer debates
On-floor networking activities
Cocktail party
International attendees from trading firms, hedge funds, exchanges, brokers, technology firms and more
Can you really afford to miss it?
download prospectus for more info ›
enquire about exhibiting ›
Download more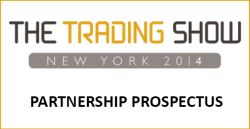 The partnership prospectus provides information on who attends, what packages are available and more.