Profile your service and solutions
Overview
Thailand is a region which today offers many opportunities to develop well-conceived, exciting hotels. With the booming tourism industry in the region, many local hotel and resort developers are actively seeking foreign joint venture partners.
Hospitality Investment World Thailand 2014 will bring together regional investors, developers, brands, operators, financiers, deal makers and government officials for one common purpose: to do business and capitalise on the fast growing hospitality sector in Thailand.
Who should sponsor
Hotel operators

Revenue management and distribution solutions

Hospitality consultants

Health & fitness operators

Property consultants

Security

Law firms

Architects and interior designers

Guest facing technology providers
Leverage on this event to reach out to your target prospects.
Reasons to sponsor
Hospitality Investment World Thailand brings you face-to-face with key customers and prospects. What a great opportunity to:
Close deals
Debut new products, services and launches
Profile your brand
Meet new business partners and distributors
Develop key relationships
Educate hotel owners and investors
Who attends
Property developers

Hotel operators/brands

Hotel owners

Private equity

Hospitality REITs

Tourism authorities

Banks and financial institutions

Architects & interior designers

Hotel technology providers

Lawyers

Hospitality consultants

Property consultants
Showcase your service and solutions at Hospitality Investment World Thailand
Testimonials
"The conference was a fabulous platform to understand more about the market and to introduce us to prospective clients. There was a great mix of owners, operators and consultants and we came away with a very positive impression of the conference"

James Stuart | Managing Partner | The Brand Company
Download more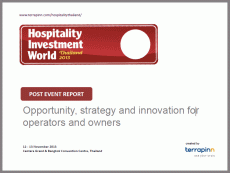 Related events
Related training
Error processing SSI file