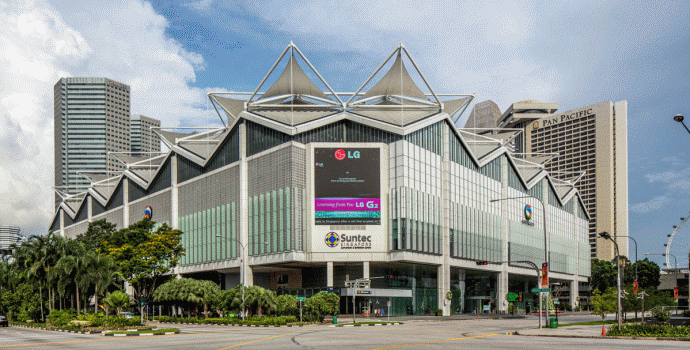 About Suntec
Suntec Singapore is a world-class venue located at the heart of Asia's most integrated meetings, conventions and exhibitions hub. With great versatility spanning six levels, this award-winning facility can cater to events from 10 to 20,000 persons.
While only 20 minutes from Changi International Airport, Suntec Singapore is conveniently located in the Central Business District and just minutes from the city's entertainment and cultural
attractions.
Visit the Suntec Singapore website
Accommodation
Suntec Singapore - Asia's Convention City - offers direct access to 5,200 hotel rooms, 1,000 retail outlets, 300 restaurants, 6 museums and the region's centre for the performing arts, Esplanade - Theatres on the Bay.
Foreign attendees to the TECHX Asia 2017 will enjoy preferential rates at the following three official hotels arranged by Terrapinn:
1) Marina Mandarin Singapore @ SGD260++
2) Grand Park City Hall @ SGD230++
3) Destination Singapore Beach Road @ SGD170++
Note: If you have received calls from Expo Housing Services or any of their representatives, kindly note that they are not an official contractor of Terrapinn and are not authorized to take accommodation bookings or reservations or collect any monies on our behalf.
How to get there
Suntec Singapore International Exhibition & Convention Centre
1 Raffles Boulevard, Suntec City,
Singapore 039593
Tel: (65) 6337 2888
Situated next to the Central Business District, Suntec Singapore is at the heart of a self-contained, totally integrated events infrastructure, and only 20 minutes from Changi International Airport, where most major Asian capital cities are within a six-hour radius flying time.
How to get there