Innovation & Start-Up Zone
National FutureSchools Festival has heavily subsidised Start-up Pods available within the exhibition for small Australian start-ups that meet the approval of the National FutureSchools team , as well as the criteria below.
This is an excellent opportunity to learn about the education ecosystem as well as meet investors, venture capitalists, angels, government officials and potential customers, as well as network with fellow start-up entrepreneurs.
Criteria:
Less than 7 employees
Revenue <$500K p.a.
Less than 2 years in business
Must be an educational technology driven product/service/solution
Solution must be market-already
Never exhibited at National FutureSchools before
Inclusions: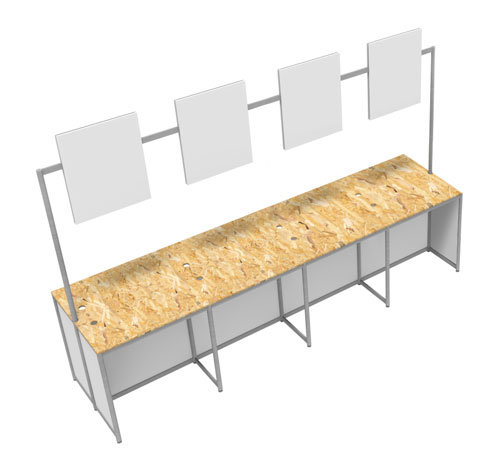 What's included:
Flooring -Pods will be laid with BLUEBERRY carpet.
Power - 1 x 10amp powerpoint
Profile - 1 x company profile on the Event App
Graphics - There is space for you to install your own graphic above your work space. We recommend you use this space to illustrate your company name. Please note, you can only Blue-tac or double sided Velcro to adhere and signage. No nails to be used. Should you wish to create a customised piece of artwork for this space you can do this at your own cost. Exhibit Systems can assist with this printing &/or design.
Complimentary Wi-Fi - Wifi will be provided in the exhibit hall, however if you need faster, more reliable connection, we strongly recommend ordering a dedicated internet connection from ICC.
What's NOT included:
Stool/Furnishings/AV
Exhibitor Catering
Customised Graphic
Testing & Tagging - All electrical equipment used by exhibitors or contractors must comply with the Australian Electrical Standards and Workplace Health and Safety Regulations.
Exhibiting Guidelines:
Due to fire marshal regulations, displays, furnishings, promo materials, signage etc. are not allowed to be placed in the aisles surrounding your space.
Exhibitors may NOT co-brand their space. Each space is entitled to 1 company logo, 1 logo on the floorplan and 1 logo and profile in the event app.
To enquire about the Start Up Zone, complete the Enquiries Form and select OTHER from the drop down menu.
Pricing:
Subsidised Start-Up Package: $1,500 + GST
Public Liability Insurance*: $225 + GST
* All exhibitors need to provide a $20 million public liability cover certificate for the period of the exhibition to meet venue requirements. Alternatively, this can be purchased via the National FutureSchools organisers, Terrapinn Australia Pty Ltd.