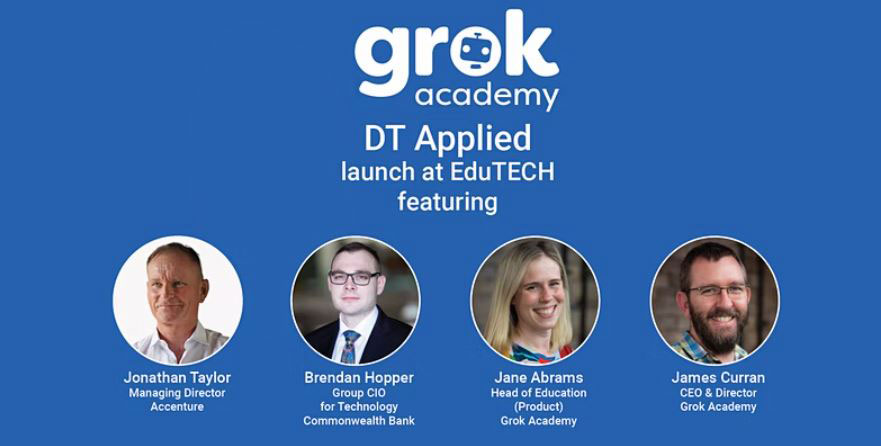 Join Grok and our industry partners for the launch of the DT Applied project, supporting the Australian Curriculum: Digital Technologies.
About this event
Wednesday 10 August: 7:45am - 9:10am AEST
Location: Convetnion Centre Foyer
Join us for the launch of our newest project, DT Applied at EduTECH.
DT Applied provides school teachers with resources to support the teaching of industry relevant applied DT skills and dispositions, and to inform students of career opportunities in the technology sector.
Working with industry partners, we are developing technical skills in four key areas which are in demand in the workplace, and covering content in the Australian Curriculum: Digital Technologies for Years 5-10.
There are four classroom activities, with online and unplugged components covering:
Design Thinking
User Interfaces/User Experience (UI/UX)
Data Analytics
Cloud Computing
This launch marks the release of the first activity on Design Thinking which can be used in conjunction with any learning area.
The event will include a panel session with our industry partners.
Light catering will be provided.
Who should attend?
Teachers wanting support and resources for teaching Digital Technologies (free unplugged resources will be provided to teachers in attendance).
Panellists
Accenture : Jonathan Taylor, Managing Director, Accenture
Commonwealth Bank : Brendan Hopper, Group CIO for Technology, CBA
Grok Academy : Jane Abrams, Head of Education (Product)
Grok Academy : Dr. James Curran, CEO, Grok Academy
Please note that registration to the DT Applied launch is seperate to registration for EduTECH 2022. Click

here

to register for the Cyber Security Netowrking Event.