Visitor Information
Opening Hours
Wednesday 25 March 2020: 9am – 5pm
Thursday 26 March 2020: 9am – 5pm
Venue
ICC Sydney Exhibition Centre
14 Darling Dr, Sydney NSW 2000

How to get there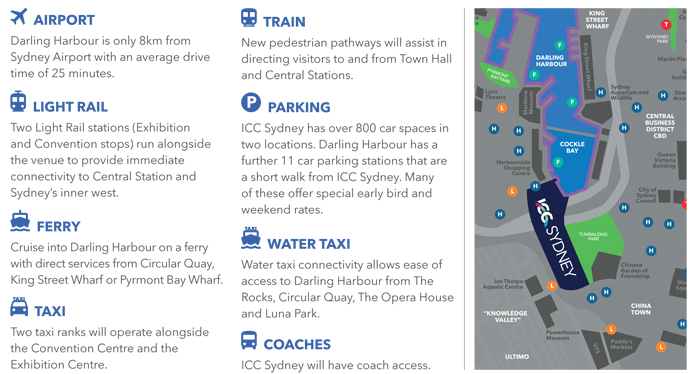 TRAVEL & ACCOMMODATION
There are a range of hotels around the Darling Harbour precinct. Visit http://www.sydney.com/accommodation for more information.
FAQ's
Where can I find information on Sydney?
For information on things to do during your stay in Sydney, please visit the city's official visitors' website.
How far is the venue from the Sydney airport?
ICC Sydney is an average 25 minute taxi ride from the Sydney Airport.
How do I arrange ground transportation?
The quickest, most affordable mode of transport from Sydney Airport is via Taxi, which are readily available at your arriving terminal.
Do I need a Visa to come to Australia?
Most visitors will require a Visa to enter Australia. Click here to learn more about Visa requirements.