Visitor Information
Opening Hours, in-person and virtual
Monday 16 November 2020: 9am – 5pm
Tuesday 17 November 2020: 9am – 4pm
In-person venue information
ICC Sydney Exhibition Centre
14 Darling Dr, Sydney NSW 2000

How to get there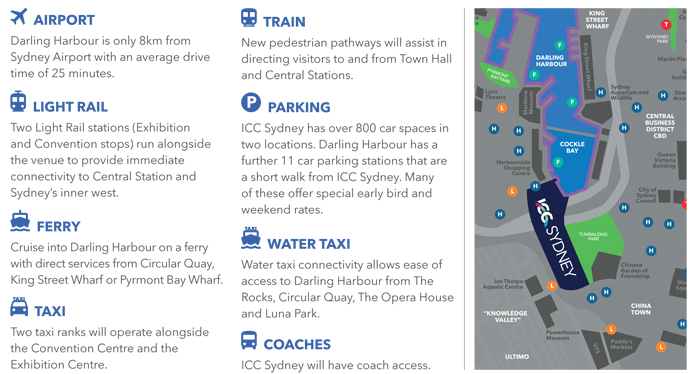 TRAVEL & ACCOMMODATION
Who wants discounted accommodation? Thanks to our partners, HRS, we are offering discounted accomodation to Accounting Business Expo 2020 attendees. Once you have registered for your free ticket, follow this link to book your stay!
Book Your Stay in Sydney
FAQ's
Virtual platform information?
Information regarding the Virtual platform will be provided closer to the event date. Please register for an Accounting Business Expo Virtual Event Pass here to receive your virtual access information.
How far is the venue from the Sydney airport?
ICC Sydney is an average 25 minute taxi ride from the Sydney Airport.
How do I arrange ground transportation?
The quickest, most affordable mode of transport from Sydney Airport is via Taxi, which are readily available at your arriving terminal.