Seaport World Trade Center Building at The Seaport Hotel
1 Seaport Lane
Boston, MA 02210
Exhibition and Conference Sessions will be in the Plaza Ballroom in The Seaport Hotel.
What are the new conference dates?

The conference is now being held on September 1-2nd
What if I can't attend the new conference dates?

You can transfer your registration to a colleague. Email Jimmy.Skroubelos@Terrapinn.com with your coleagues information.
If you or a colleague can not attend, email Jimmy.Skroubelos@Terrapinn.com and he will send you a cancellation invoice. There is a 25% cancellation fee.
Do you have discounted rooms for attendees?

If you booked a room in our room block from August 30 - September 2, your reservation will automatically be cancelled. You will have to rebook your room for the new dates.
Room Block Dates: Sunday, August 30th-Wednesday, September 2nd
Discounted Rate: $279++
Room Block Link: https://reservations.travelclick.com/131437?groupID=2809446
Room Block Deadline: August 7th 2020

How do I get to the venue?

Just ten minutes from Logan Airport by tunnel or water, the hotel's own MBTA "T" stop on campus and it's connected to Boston's three major highways.
Is there discounted parking?

There is not discounted parking. The parking rates and information can be found here:
Where do I get my badge?

You can collect your badge from the registration desk located in the foyer next to Plaza Ballroom on the Plaza level of the Seaport Hotel.
How do I get to the registration desk and meeting rooms?

If you are staying at The Seaport Hotel, take the elevator to the Plaza level.
All meeting rooms are located one escalator down from the registration desk on the Mezzanine level.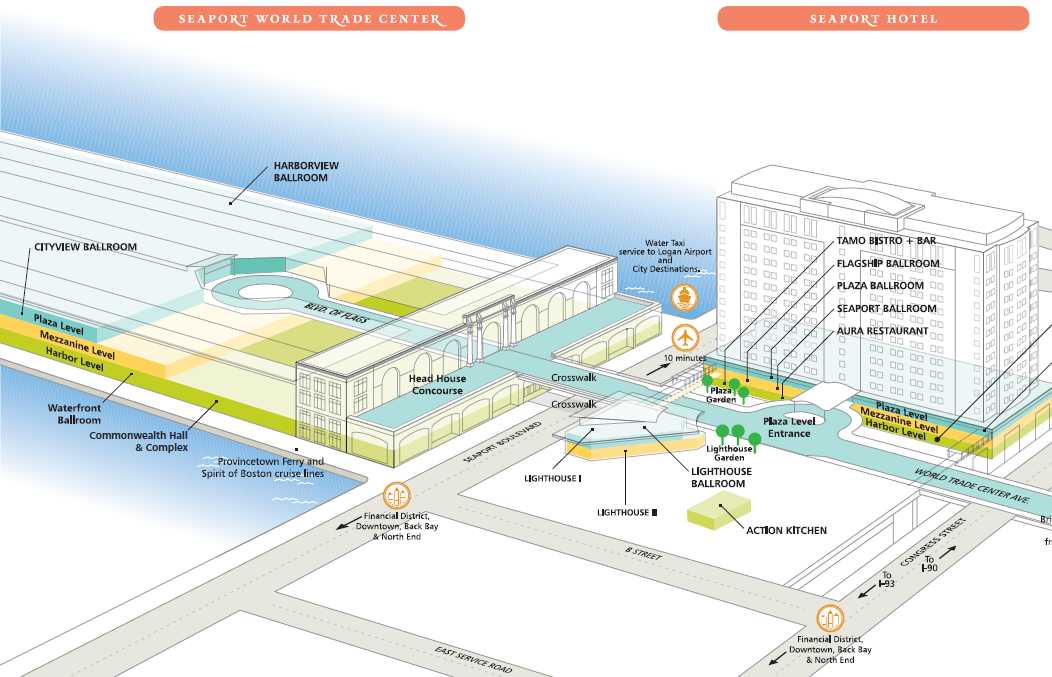 What time does registration open?

Registration for conference days opens at 7:30AM on Tuesday, Septmeber 1st and 8:00AM on Wednesday,

September 2nd

.
What are the conference hours?

Conference hours are 8:30AM-6:30PM on Tuesday, September 1st and 8:50AM-4:05PM on Wednesday, September 2nd .
Where can I view the conference agenda?

The full schedule and agenda can be found on the website here or in the networking app.
Will drinks and food be provided?

Yes, coffee will be provided on pre-conference day and a light breakfast, boxed lunch and coffee will be available during networking breaks on conference days.
Will there be WIFI?

Yes, basic WIFI will be provided for all attendees.
Where can I find the latest floorplan?
Can I view the presentations from the conference?

Yes, the presentations will be available to view and download in the networking app within two weeks of the conference.
Where can I view a full attendee list?

You can view a full list of attendees, sponsors and speakers in the networking app under "profiles"
NETWORKING APP
What is the networking app?

Download the "Terrapinn Events" app in your app store on your phone
The event code is "World Drug Safety US 2020"
Enter your username and password
Can I view the app on my computer?

Yes! You can view the event content on the desktop version of the app here:
When is the networking app available?

The networking app will become live on Monday, Tuesday, July 21st 2020.
I didn't receive my networking app login information, who do I contact?

First, you need to be registered for the conference to receive your login information
If you are registered, check your junk folder for an email from World Drug Safety Congress 2020 < Ashley.pierson@terrapinn.com >
If you still can't find your login information, email Ashley.Pierson@Terrapinn.com .
How long so I have access to the app?

The app will be available until December 30 th 2020