Meet Thailand's most influential travel and hotel leaders
Overview
Travel Distribution World Thailand 2014 is the premier platform for the region's travel and hotel leaders to gain insights into the strategies, innovation and technology driving the growth of Thailand's travel and hospitality industry.
This is the platform for showcasing technology and solutions that help travel and hotel suppliers and intermediaries to better navigate the unique sales, market and distribution dynamics in Thailand.
Who should sponsor
If you are a technology or solution provider with any of the below offerings:
• Business intelligence and analytics
• Content management
• Customer experience (CRM)
• Loyalty management
• Payment and mobile app
• Revenue management
• Social media and marketing
Then take this opportunity to educate Thailand's travel and hotel industry on what your product can do for them!
More on sponsorship packages >
Download more information >
Download brochure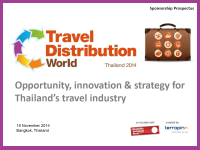 For more information, please contact Sharon Yang on +65 6322 2727 or sharon.yang@terrapinn.com .
Download sponsorship brochure >
More about speaking opportunities >
What you will learn
Co-located with the 2nd annual Hospitality Investment World Thailand conference, this 1-day conference will address topics, such as:
How to rework distribution, sales and marketing strategies in driving revenue
How to optimise E-commerce platforms in maximising online sales
How to convert customer loyalty and analytical insights into yields
How to leverage social media and technology in increasing sales and customer retention
How to access partnership opportunities with Thailand's travel and hotel players
Who you will meet
CEOs, Heads of Distribution, Sales, Marketing, Revenue Management and Technology who are seeking new solutions to grow their travel and hotel businesses will be in attendance, including:
• Hotel operators
• Travel management companies
• Travel agencies
• Distribution channels
• Information and technology software providers
More on attending >
Get in touch >
Related events
Hospitality Investment World Indonesia 2014 >
Economy Hotels World Asia 2014 >
Hospitality Investment World Thailand 2014 >
Related events
Related training
Error processing SSI file