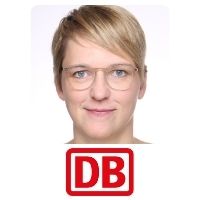 Annika Hundertmark studied and obtained her doctorate 2008 in the field of economics (focus: empirical methods) and industrial engineering
After having worked in IT consulting and being self-employed, she joined Deutsche Bahn in 2011 in corporate development. There, her main task was developing and implementing the new, for the first time sustainable corporate strategy "DB2020". Afterwards, she set up and realized corporate programs which tackled several future topics like innovation management, startup collaboration or corporate foresight
Since 2018, she has been the head of "Digitization of the Railway System" in the "Digital Rail for Germany" program. There, she has been working on digitization and automation of the railway system, with the aim to significantly improve capacity and quality and, thus, to increase the modal split in future.  
google-site-verification: googlef51ddddbc72a4ef6.html