Korea's leading clinical trials and development conference
Event overview
Pharma Tirals World Korea is where international and regional pharma companies, trial sponsors, CROs and clinical trial sites gather to strategise in accelerating clinical development, accessing emerging markets, enhancing clinical operations through effective offshoring and outsourcing in Korea.
Join senior level attendees from international pharma companies looking to obtain regulatory data for products in Korea and companies trying to optimize drug clinical development. Tap into the Korea's pharma market by partnering with CROs and clinical trial sites.
Download the sponsorship brochure >
Speaking opportunities >

Key topics include
How to overcome regulatory challenges in Korea
How to integrate their clinical trial studies in Korea with their global development plan
How to effectively design clinical trial operation strategies in a most cost-efficient manner
How to accelerate clinical development cycles using the latest analytical and statistics tools
How to select the right CROs as partners who can deliver quality and results
How to choose a reliable clinical trial supply partner in Korea
Meet decision makers
Senior level executives and industry leaders in South Korea's clinical trials industry not only attend this event for its world class content but also to network, build lasting relationships and forge collaborations for the future. That's why we have over 30 hours of dedicated networking time built into our agenda.
With the "Total BioPharma" phone app, you can access the full list of attendees weeks before the event starts and make contact with the people that matter most to your business.
Face-to-face meetings
We understand how important networking is at any event; that's why we have introduced so many tools to help you meet as many prospects as possible.
With our mobile app you can access the attendee list before the event begins and message key delegates to arrange meetings, the app stays live for a year after the event so you can stay connected. We also have an onsite networking manager facilitating your meetings.
Download more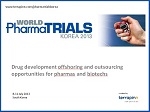 Our 2014 sponsorship brochure includes brand new packages that gravitate around increased brand exposure and focused time with our conference delegates.
Download sponsorship brochure >
Contact our sponsorship manager >
Related events
Related training
Error processing SSI file