Meet Buyers.Generate Leads.Launch Products.
Mobile Show Keynotes
JoYour customers are continuously looking to drive revenues, deliver more secure and reliable services, invest in new technologies and streamline operational process.
This is your opportunity to:
Launch products
Meet buyers
Close deals 

                   
Who should sponsor
Telcos
Device Manufacturers
Chip Manufacturers
Network Vendors
OS/ Platforms
App & Web Developers
Digital Agencies
Payment/Security providers
Advertising Agencies
Content Distribution Platforms
NFC Technology Providers
AR Technology Providers
Who attends Mobile Show
The Mobile Show Middle East is the place where solution providers find new business with senior level executives from:
Telcos
Developers
Brands
Advertising Agencies
Healthcare Operators
Retailers
Publishers
CIO/IT Managers
Generate leads
Sponsoring The Mobile Show 2014 is a much bigger marketing opportunity for your company than just the main two days of the event.
As a premium sponsor you'll be able to join our Lead Generation Programme which will create awareness for your products and services and generate leads that you can add to your sales pipeline.
Launch products
The Mobile Show Middle East offers an ideal launch pad for new products and services in front of decision makers from every telco, brand, developer, ad agency and publisher in the region.
This is a valuable marketing tool for your business. Providing an excellent opportunity to invite existing and potential clients to view your products and services.  This is your opportunity to get your brand at the front of their minds.
Download more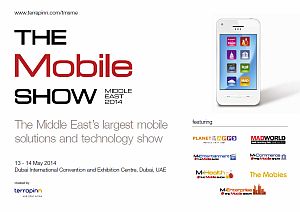 Related events
Related training