Asia's most holistic mobile convention
Panel: The rise of music streaming services in
Asia and the partnership opportunities for
Operators

"What is important is that we have the
true access to the fans we can
communicate with them, we can pass
that happiness."
- Rovio Asia

Panel: Customising your content strategy to
convert mere visitors to avid users
Show overview
Businesses are increasingly latching onto mobile to engage their customers, enable business functions and deliver superior communications and brand messages to their stakeholders. Today's organisations need to quickly understand how to connect with their audiences through the mobile devices now proliferating the market.

Come April 2014, The Mobile Show Asia 2014 will be back for the 3rd year running, serving as the most important meeting point for businesses in Asia who are looking for the best idea and technology that generates the maximum ROI.
The Mobile Show Asia is co-located with The Internet Show Asia.
Event format in 2014
2-day strategic conference featuring joint plenary keynotes and case studies by renowned brands
Conference themes:
- Mobile Advertising
- M-Commerce
- M-Enterprise
- M-Entertainment
- M-Health
- Planet of the Apps
Themed industry roundtable discussions
Speed Networking sessions
Face time with prospects
After-event Networking Party
Multiple Gaming Zones & Entertainment features
A bigger Start-up scene with dedicated Start-up zone showcase and live pitching
Dedicated Technology Pavilions
On-floor seminars
Download now
Do not leave your meetings to chance! This is the ideal platform for you to network and establish strategic partnerships with key stakeholders in Asia's digital community.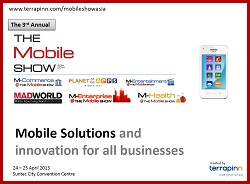 For sponsorship or exhibition opportunities, contact Nadia at nadia.wahid@terrapinn.com now.