WHY THE RAK QUARRYING SHOW?
The objective of the RAK Quarrying Show is to showcase the quarrying industry in Ras AlKhaimah through Stevin Rock that uses the best in international standard practice, state of the art equipment and latest technologies.
Stevin Rock is one of largest quarrying companies in the world with a current production capacity from three sites of over 80 million tonnes per year of high quality limestone, dolomite and gabbro for the construction, cement, steel and mining industries. The company is owned by the government of Ras Al Khaimah, one of the seven Emirates of the United Arab Emirates, has over 3,000 employees and has been in activity for more than 40 years.
The invitees will have the privilege to be at the first Quarrying Show organised in a world-class operating site in the MENA region.
WHO CAN ATTEND?
Hosted by Stevin Rock, the event will be held in their
Q4 Kadra quarry, located on the outskirts of Fujairah.
By way of invite only, the following profiles of attendees will be able to access the event:
Government officials
International Ministries
Solution providers
Local and International quarry operators
Consultants and Specialists.
Construction companies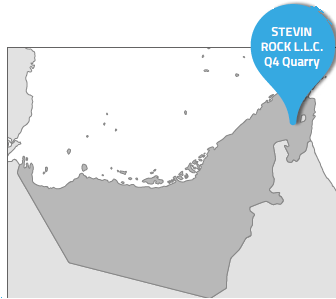 THE KEY BENEFITS FOR ATTENDING:
Exposure to the quarrying industry that is an important component of the UAE economy
Create and nurture governmental relationships
Learn about best practice in quarrying
Make and reinforce contacts within the quarrying industry and with key players in the UAE
Learn about the various aspects of the quarrying industry through direct exposure to a working site, exhibition and exchanges with key players
FUN FACTS ABOUT THE MINERAL INDUSTRY OF RAS AL KHAIMAH:
Only open-pit operations for industrial minerals
Mostly Limestone, Dolomite and Gabbro
Small quarries of Silica and Shales
Over 20 quarries with a combined annual production of +100 Mt.
Total number of employees: +4,200
Total reserves estimated at around 5 billion tonnes