Asia's most holistic digital business event
"Engagement in Social Media is key."
- BBC Worldwide

Panel: Innovating digital strategies to increase
mindshare — designing social and mobile
campaigns for your specific consumer demands

"Online video is changing the media
lanscape in Asia."
- VEVO
Show overview
Digital, social and mobile has become increasingly important in today's consumer marketplace. Marketing professionals and other business leaders are always looking for innovative strategy and technology to stand out amidst the intense competition.
Come April 2014, The Internet Show Asia 2014 will be back for the 5th year running, serving as the most important meeting point for businesses in Asia who are looking for the best ideas and technology that generates maximum ROI.
The Internet Show Asia is co-located with The Mobile Show Asia .
Event format in 2014
2-day strategic conference featuring joint plenary keynotes and case studies by renowned brands
Conference themes:
- Content Management
- E-Commerce
- Online Video
- Social Media
Themed industry roundtable discussions
Speed Networking sessions
Face time with prospects
After-event Networking Party
Multiple Gaming Zones & Entertainment features
A bigger Start-up scene with dedicated Start-up zone showcase and live pitching
Dedicated Technology Pavilions
On-floor seminars
Download now
Do not leave your meetings to chance! This is the ideal platform for you to network and establish strategic partnerships with key stakeholders in Asia's digital community.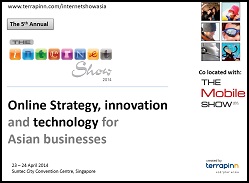 For sponsorship or exhibition opportunities, contact Nadia at nadia.wahid@terrapinn.com .