Asia's low cost aviation marketplace
Overview
Global aviation executives will attend the 11th Annual World Low Cost Airlines Asia Pacific to seek solutions on how to generate new revenues, new routes and new customers.
We're pleased to launch 2 new conferences alongside the highly successful World Low Cost Airlines Asia Pacific – namely, Aviation IT and AirXperience.
As the region's aviation industry undergoes new growth opportunities,
we're delivering content to stimulate new ideas & strategies for Asia's low cost & full-service airlines to maximise their profitability.
2014 speakers
Arif Wibowo, CEO, Citilink
Barathan Pasupathi, CEO, Jetstar Asia
Campbell Wilson, CEO, Scoot
Patee Sarasin, CEO, Nok Air
Patrick Murphy, Executive Advisor, Peach Aviation
Zhang Xiuzhi, CEO, Spring Airlines
Sanjay Kumar, CCO, Indigo
Eash Sundaram, Executive Vice Pesident and Chief Information Officer, JetBlue Airways
And many more...
Download brochure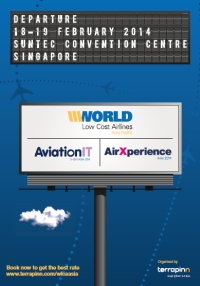 Who attends
500 Five hundred attendees
300 Three hundred airline executives
50 New technologies on show
16 Over sixteen hours of dedicated networking time
12 Roundtable debates
3 Three events
2 Two great days
This is one of the best commercial low-cost aviation events Asia has to offer in 2014! No matter where your interest lies, we have content, networking and potential partners for you.
By bringing three events under one roof, you get to choose the sessions which are the most applicable to help your business cut costs and generate profits in this cut-throat aviation sector.
Reasons to attend
Hear from the CEOs of Asia's top LCCs such as Scoot, Jetstar Asia and Tigerair Mandala, on what they are doing right to stay on top of their game
Dissect new revenue management strategies and best practices for greater profitability
Learn new technologies and business models will improve your business
Assess new approaches to create better solutions and experiences for the customer
Understand the development plans in North and Southeast Asia
Win new customers through innovative ancillary co-branding and cross-selling strategies
Who should sponsor
Aircraft and Engine Manufacturers
Airports, Regional Development Authorities
Revenue Management Systems
Reservation Systems, Travel Distribution
Ancillary Services: Car Rental, Hotels
Risk Management and Insurance
Air Finance and Leasing
Consultants, Lawyers, Bankers
Maintenance

co-located with