Meet and learn from leading cord blood banks
Event overview
The World Cord Blood Congress is where global cord blood banks, hospitals, biotechs, academia and government come to debate advances in cord blood banking and therapeutics.
It also showcases innovation in engraftment and expansion technologies for more efficient transplantations.
The audience is truly international, with attendees from all over the world. If you want to learn from and network with the global cord blood banking community, you can't afford to miss it!
The conference
Instead of asking you to travel and invest in two separate conferences, the World Cord Blood Congress and Stem Cells Regenerative Medicine Congress will take place simultaneously.
Attendees have full access to both conferences so you can pick the sessions that matter most to you!
This is a unique opportunity to network and brainstorm with industry leaders at the only commercial cord blood banking conference.
Reasons to attend
No other cord blood meeting focuses on strategies to make cord blood banks more lucrative
Learn from cord blood banks from other countries
Participate in roundtable discussions and speak your mind on topics such as building institutional credibility, partnering with insurance companies to facilitate outreach to expectant mothers and enhancing outreach to physicians
Network with cord blood banks at the Frankenstein cocktail party
download more info
>
Who attends
Public & private cord blood banks
Hospitals
Biotech companies
Research institutions and academia
Government
Equipment providers
Transportation & logistics companies
...anyone who wants to uncover the latest in cord blood banking!
Networking
At Terrapinn we realize that you not only attend our conferences for their world-class content, but also to network and build relationships.

That's why we have several hours of networking time built into the agenda.
And remember, you can network with the stem cells community as well!
book now >
Download more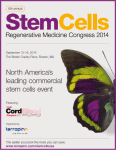 co-located with
Related events
Error processing SSI file