| | |
| --- | --- |
| | |
Address critical trends, challenges and issues facing Thailand's travel and hotel industry
Show overview
Travel Distribution World Thailand 2014 is the premier platform for the region's travel and hotel leaders to gain insights into the strategies, innovation and technology driving the growth of Thailand's travel and hospitality industry.
This is the platform for showcasing technology and solutions that help travel and hotel suppliers and intermediaries to better navigate the unique sales, market and distribution dynamics in Thailand.
More on sponsoring >
More on attending >
Who attends
CEOs, Heads of Distribution, Sales, Marketing, Revenue Management and Technology who are seeking new solutions to grow their travel and hotel businesses will be in attendance, including:
Hotel operators
Travel management companies
Travel agencies
Distribution channels
Information and technology software providers
More on attending >
Get in touch >
What our delegates say
"I greatly enjoyed the conference and more importantly found it informative, educational and well worth my time. You are to be congratulated! The topics and content of many of the presentations provided great insight into the changing nature of the business. I would certainly recommend attendance in the future!"
David Shackleton | COO |
Dusit International
Travel Distribution World Asia 2013
See the 2014 sponsorship brochure ›
Download more information ›
The conference
Co-located with the 2nd annual Hospitality Investment World Thailand conference, this 1-day conference will address topics, such as:
• How to rework distribution, sales and marketing strategies in driving revenue
• How to optimise E-commerce platforms in maximising online sales
• How to convert customer loyalty and analytical insights into yields
• How to leverage social media and technology in increasing sales and customer retention
• How to access partnership opportunities with Thailand's travel and hotel players
Hospitality Investment World Thailand >
More on attending >
Why attend
Learn about new market segments, products and solutions
Create new alliances and establish key relationships with decision-makers
Fast track your sales cycle and achieve operational efficiency
Find out how best to enhance revenue and ROI
Be a part of Thailand's premier hospitality industry gathering
Download more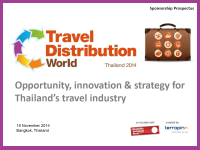 For more information, please contact Sharon Yang on +65 6322 2727 or sharon.yang@terrapinn.com .
Related events
Related training
Error processing SSI file