The Trading Show West Coast is the premier strategic conference for quant, hedge funds, HFTs, banks, regulators, prop trading firms, investors, exchanges and technology providers exploring new trends, strategies and innovation across the interconnected worlds of quantitative investing, automated trading, and financial data management.
From learning the best quantitative asset allocation techniques to discovering the parallels between trading and sports betting, The Trading Show West Coast features a well-balanced mix of innovative content and practical strategic insights from top influencers, disruptors and thought leaders across the financial sector.
2017 esteemed speaker lineup includes:​
Ben Bowler, Global Head of Derivatives Research, Bank of America Merrill Lynch
Monica Khurana, Chief Information Officer, Victory Capital Management
Conrad Gann, COO, Cerebellum Capital Management
Pravil Gupta, Chief Technology Officer, Quadeye Trading
Kal Salama, Chief Investment Officer, The Headlands Group
Howard Getson, CEO, Capitalogix Trading
Gaurav Chakravorty, Co-Founder, qplum
Sam Hou, PhD, Founder & Chief Investment Officer, True Arrow Capital Management
Yves Chauvin, Director, Investment Data Platform, AXA Rosenberg
Ben Gum, Director, Portfolio Optimization & Risk Modeling, AXA Rosenberg
Jonathan Hsu, Co-Founder, Sigma Squared Asset Management
Bert Mouler, Founder & CIO, Profluent Capital​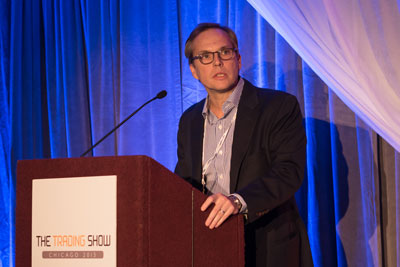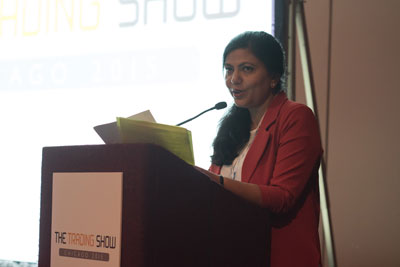 Click on the links below to find out more about the 2017 agenda and speakers.