Capitalising on the Connected Car
Overview
Telematics, diagnostics, infotainment, and safety services are improving the automotive experience for the driver but also represent a considerable opportunity to the CSP.
This new Total Telecom event will bring together motor manufacturers, telecom operators and service providers, hardware and software companies, analysts and consultants to explore how services and connectivity will develop in the automotive sector.
Crucially, the focus will be how telecom operators can capitalise on the connected car opportunity.
About the event
Total Telecom DRIVE! Is the first in a new series of focused one day briefings organised by Total Telecom.
The emphasis is on providing a valuable, time and cost efficient event for executives directly interested in a specific subject.
The agenda is designed to:
Provide an interactive experience
Facilitate learning and shared experiences
Develop real relationships through networking
Download more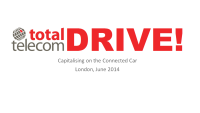 Related events
Related training
Error processing SSI file