North America's commercial stem cells event
Show overview
The 6th annual Stem Cells & Regenerative Medicine Congress is where biotechs gather to explore the most promising trends in stem cell, cell and gene therapies.
If you have a solution that you need to position in front of an audience of motivated buyers, then this is your best opportunity to do just that in 2014!
Get in touch today for more information on how you can get involved.
enquire about sponsorship ›
download partnership prospectus ›
A proven track record
Here are some stats from the 2013 event:
300+ attendees
International attendance from North and South America, Europe, Asia and the Middle East
25 sponsors and exhibitors
2 days of world-class content
2 conferences
60% buy-side attendance
1-2-1 meetings facilitated onsite
60+ speakers
1 fun evening networking function
download 2013 post event report ›
download partnership prospectus ›
Who attended in 2013?
The 2013 event attracted many exciting up-and-coming biotechs, and many of the industry's big-hitters, including:
US FDA
RXi Pharmaceuticals
Celgene
Centre for Commercialization of Regenerative Medicine
Tissue Regeneration Therapeutics
Neuralstem
Organogenesis
Gamida Cell
download prospectus for full list ›
enquire about sponsorship ›
Find new partners
Meet influential buyers and decision makers within the stem cells and RM sector. Take advantage of our partnering tools to meet the right people:
Meet pre-qualified partners
Set up meetings with our event app
Sign up for 1-2-1 Partnering services to secure a dedicated Networking Manager
Over 300 attendees to meet during Speed Networking
Interactive peer roundtables
enquire about sponsorship ›
download 2013 post event report ›
A business marketplace
This is a business marketplace like no other:
An international exhibition
2 strategic conferences
Interactive roundtables
Comprehensive case studies
Eye-opening keynote presentations
1-2-1 partnering sessions
Online networking tool
Networking cocktail party
Can you really afford to miss it?
download prospectus for more info ›
enquire about exhibiting ›
Download more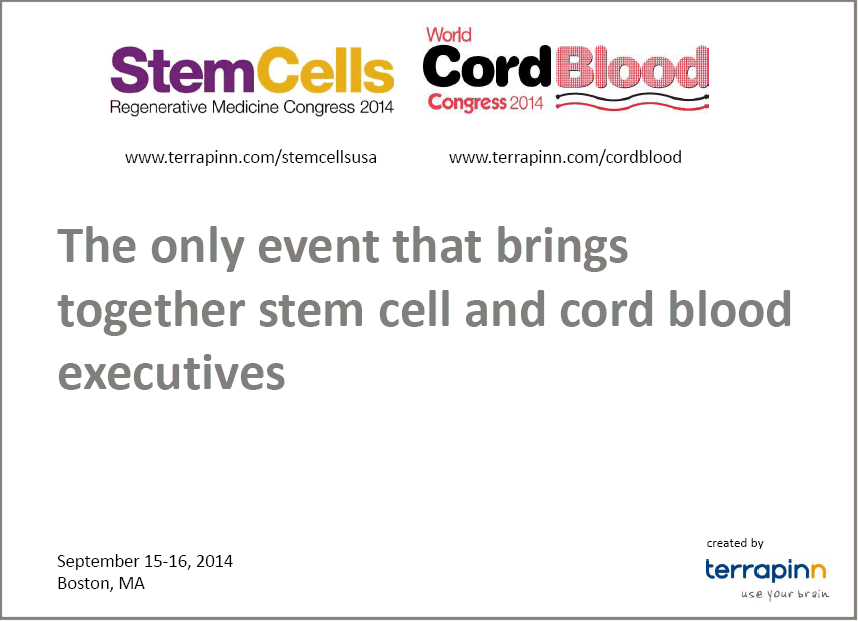 The partnership prospectus provides information on who attends, what packages are available and more.
co-located with
Related events
Related training