North America's commercial stem cells event
Event overview

The 6th annual Stem Cells & Regenerative Medicine Congress is North America's leading commercial stem cells event for biotechs, academia, government and CMOs to talk about process enhancement, innovative technology and business development.

From regulation, approaches to alternative regenerative medicine and the latest exciting developments in iPS cells, the Congress provides opportunities and strategies for biotechs and their partners.
Facts & stats
Over 200 attendees
54% executive level attendance
50% of participants from operators
8+ hours of networking
60% biotechs
20% academics
10% investors
The brochure is now available!
Download it to find out more about what to expect from 2014.
download the brochure
>
Speakers
We're excited to host some of the hottest speakers in regenerative medicine, including:
GEN9
Optum Health
The Genetics Policy Institute
R.I.K.E.N
The Mayo Clinic
The FDA
Boston University School of Medicine
Cigna
Fate Therapeutics
enquire about speaking
>
Event focus
You've spoken and we've listened. This year's event will feature the most talked about topics in 2014, including:
Synthetic stem cells
Regulation, reimbursement, and hope for the sector
The Big Pharma Movement
Gene therapies and alternative regenerative medicine
Trends abroad
Advancing iPS Cells
Manufacturing
Don't miss it!
register now
>
Who sponsors
This year's expo will feature leading solution providers from all over the world. Be there to meet with the best in:
Medical Technology
Equipment
Tools
Contract Manufacturing Organizations
Consultants
Services
They'll be there to help you find the solutions to your regenerative medicine challenges.
become a sponsor
>
Download more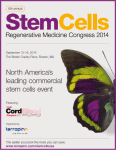 Download the brochure to get all the information you need on this year's event.
get your copy here
>
co-located with