The leading conference for Canadian quants
Brochure now available

Join our weekly newsletter:
Overview
Quant World Canada 2014 is the leading event for traders and investors reviewing quantitative techniques and strategies. This is where Canada's leading pensions, quant funds, algorithmic traders, and exchanges are looking for new strategies and technologies.
With more end investors in attendance than any other event of its kind, you will have ample opportunities to network, forge relationships and learn from Canada's top quant investors and fund managers including OMERS, AIMCo, HOOPP, and CPPIB.
Join them to discuss the quant industry's latest developments and get your organization noticed.
get involved now
>
The inside info you need
Top pensions, asset managers and traders using quant approaches will be there to find out:
How to compare quant fund strategies and new equities approaches
How to ride the wave of volatility
How form a global quant team
How to adopt new modelling techniques with big data, cloud computing and machine learning technologies
How to analyze different risk hedging methods
How to utilize smart order routers and dark pool trading
How to stay one step ahead of regulation
Join them and make sure you don't get left behind as the industry progresses.
register today
>
2013 speakers
Last year's event was a big hit and featured top decision-makers and industry experts from:
Prudential Real Estate Investors
Tishman Speyer
Southern Cross Group
Chevy Chase Trust
Coral Gables Trust Company
Virginia State Retirement System
Advent International
Four Seasons Hotel
YMCA Retirement Fund
Darby Overseas Investments, Ltd
Paul Capital
Could your business benefit from expert quant tips and strategies? Be there November 2014!
more on attending
>
Networking
It's all about who you know. That's why we've gathered the most influential quants from across Canada to meet and form new partnerships.
Networking opportunities at Quant World Canada include:
Speed networking
Networking app
Networking meals
1-2-1 Partnering
Themed cocktail party
Networking coffee breaks
International exhibition
enquire to learn more
>
Roundtables
A session has multiple roundtables running concurrently, with a few sessions running consecutively. Each session runs about 40 minutes.
These sessions are highly interactive and should be used as a consultative Q&A session, with you as the expert, and moderating an open discussion regarding your topic/area of expertise.
This is the perfect platform to position yourself as a thought leader, while generating leads and at the same time network with potential partners/clients.
download more info
>
Download the prospectus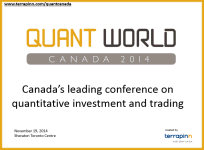 Download the prospectus to see the full range of ways your organization can get involved with and benefit from this event.
get your copy here
>