The Americas' conference for low cost carriers
Download the prospectus

Join our weekly newsletter:
Event overview
World Low Cost Airlines Americas is the premier business event for low‐cost, hybrid and full‐service airlines dedicated to uncovering new ways to increase profitability and improve the commerciality of their activities.
By drawing from traditional and innovative airlines, this year's event will drastically increase the number of airlines executives in attendance to create more opportunities for sponsors and exhibitors to meet with prospects and close business – not only from the Americas, but from around the world.
register now
>
Comprised of
An international exhibition
A strategic conference
Interactive roundtables
Comprehensive case studies
Eye-opening keynote presentations
1-2-1 Partnering sessions
Online networking tool
Networking cocktail party
All of this in one place, at one time! Can you really afford to miss it?
Your customers and prospects will be at World Low Cost Airlines Americas - you should be too!
Who attends
Join us in Miami this May to meet with the leaders of the North and South American airlines business.
CEOs
CFOs
CCOs
CMOs
Heads of Ancillary Revenue
Heads of Route Development
Heads of Distribution
Heads of Sales
If these job titles include you or people you're looking to meet, you register to attend!
Key reasons to attend
Re-design business models to differentiate your offering in a fast-consolidating industry
Brainstorm new revenue streams and cost-reduction techniques to grow profitability
Consolidate profitable channels and streamline your distribution strategy to reduce costs
Spot your next ancillary revenue opportunity by understanding what the customer wants
World Low Cost Airlines Americas offers you all this and more.
Who sponsors
Aircraft and engine manufacturers
Airports, regional development authorities
Revenue management systems
Reservation systems and travel distribution
Ancillary services: Car Rental, Hotels
Risk management and insurance
Air finance and leasing
Consultants, lawyers, bankers
Maintenance
If your company offers solutions to the above, you need to join us at the leading event for low cost and full service carriers and their partners.
Download more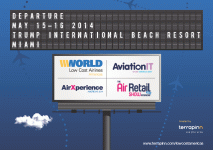 The partnership prospectus provides information on who attends, what packages are available and much more - get your copy today!
co-located with