Who Should Attend
RETAILERS AND ETAILERS
If your day-to-day role influences B2C delivery and fulfilment, you will learn best practise from leading retailers and discover future retail trends and customer expectations. Plus, those sourcing technology and IT solutions, logistics and fulfilment providers and carriers, will benefit from meeting a broad selection of innovative companies who can help you improve your customers' delivery experience.
PARCEL CARRIERS AND COURIERS
This is a great place for your commercial teams to come and understand what consumers and retailers want and start conversations that could lead to new partnerships with retailers and innovation partners.
CROSS-BORDER ECOMMERCE SOLUTIONS
With a dedicated session on international delivery and cross-border ecommerce, retailers, who are delivering internationally, will learn how to overcome challenges associated with international fulfilment and will be open to hearing about your solutions from your marketing and business development teams.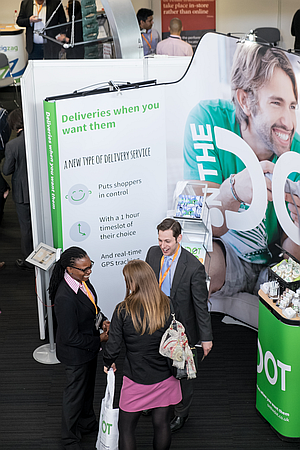 RETURNS AND REVERSE LOGISTICS
As a critical part of the fulfilment process, retailers are keen to optimise their reverse logistics to match forward logistics and your commercial teams can get the opportunity to start building relationships with those researching new reverse channels and processes.
TRANSPORTATION, FLEET, WAREHOUSING AND FULFILMENT SOLUTIONS
The whole delivery chain, from the click of a mouse, to the product arriving with the customer, will be explored at this year's event, with dedicated sessions on what retailers are trialling, looking for solutions to and expecting from solution providers, which presents a great opportunity for you to join the discussion and showcase your capabilities.