The leading event for Asia's booming aviation sector
Overview
The 6th Annual Aviation Outlook Asia is the region's only truly strategic gathering of senior airline executives from Asia Pacific and the Middle East to discuss and debate the best strategies to capitalise on the world's most dynamic aviation market. Joining Aviation Outlook Asia guarantees a C-level networking platform to explore new ideas, learn best practices and develop new and existing partnerships in the region.
Held in Singapore, the aviation hub of Asia, it is the authoritative annual gathering of over 300 attendees from regional full-service and hybrid airlines, international airports, aviation solution providers and industry stakeholders. Every year key executives from international airlines will attend to look for solutions to drive business growth and continue prospering in the Asian market.
Who should sponsor
Aviation IT Solutions
Aircraft Manufacturers
Airports
Aircraft Leasing Companies
Ancillary Revenue Product / Service Providers
GDS / Distribution
Online Travel Agencies
Investment Banks
IFE / Communication Solutions
Legal
MROs
Payment Facilitators
Download partnership prospectus ›
Download 2012 post event report ›  
Download sneak preview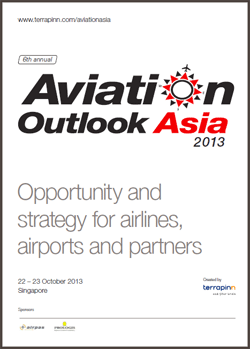 Download sneak preview brochure ›
Download partnership prospectus ›
A great event in 2012
250+ global attendees
121 organisations represented
57% are airline executives
43% are regional and global aviation partners
59% of attendees were top ranking executives
But the event is much more than this…
It is a focused, targeted and exceptional platform showcasing thought leadership, best practices, success stories and partnership opportunities.
What's new in 2013
Expanded geographic focus across the entire Asia Pacific and Middle East as partnerships and alliances take centre-stage
North Asia CEO keynotes representing the world's fastest growing air travel market from Hainan Airline, Air Macau and Okay Airways
Asia's top CIOs and IT solution providers highlight the best technology & innovation driving revenue growth and cost savings
And much more…
Testimonials
"Bringing in people from airlines with unique business models, Aviation Outlook Asia is an extremely important platform to learn from and exchange ideas."
Anand Lakshminarayanan | Divisional Vice President Route Planning | Emirates
"The networking activities and exchange of information at Aviation Outlook Asia were very effective for me as I spoke with many key people from various verticals across the industry."
Djoko Murjatmodjo | Director of Air Transport | Civil Aviation (Indonesia)
Related events
Related training