Help airlines improve IT efficiency
Why sponsor or exhibit?
Meet influential buyers and decision makers.
Arrange sales meetings with top prospects
Demonstrate thought leadership
Educate airlines on the superiority of your products and services
Increase brand awareness and positioning
Generate new leads
Lead round table discussions
Who sponsors/exhibits?
Past air event sponsors inlcude:
Navitaire
NIIT Technologies
Retail in Motion
WNS
LiveTV
Interglobe
SSi
Farelogix
Amadeus
Gate Retail Onboard
How can you get involved?
Download our sponsorship prospectus to get a breakdown of the services we offer sponsors.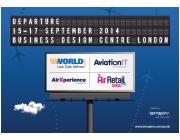 co-located with